(PHASE-II) LIVELIHOOD GENERATION PROGRAMME FOR RETURNED MIGRANT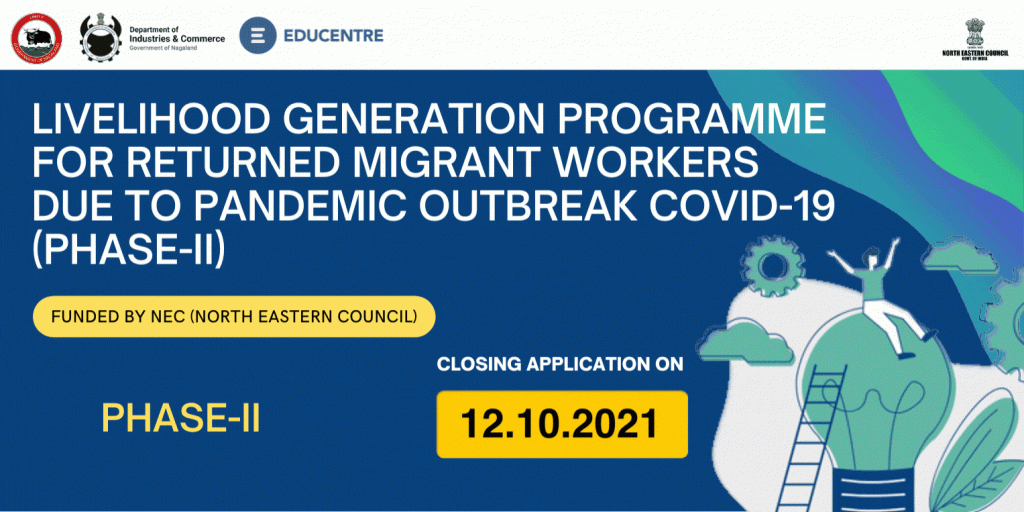 LIVELIHOOD GENERATION PROGRAMME FOR RETURNED MIGRANT WORKERS DUE TO COVID 19 PANDEMIC OUTBREAK
Implemented by Department of Industries & Commerce, Govt. of Nagaland
(PHASE-II)
Who can apply?
A migrant worker who has returned to Nagaland due to COVID-19 pandemic outbreak and is interested to start a business in the State.
Criteria to be fulfilled
i. Should NOT have been a participant in the Livelihood Generation Programme (Phase-I) Entrepreneurship Development Programme conducted from 24.11.2020 to 27.11.2020
ii. Documents required for verification:
    a. Experience certificate from your previous workplace
b. Ticket of your journey to Nagaland/ RT-PCR test result/ Quarantine documents
c. Aadhar Card
iii. You should currently be a resident of Nagaland
Process of Selection
i. Attending Online Entrepreneurship Development Programme (LMS) to be
implemented by the Directorate of Industries & Commerce, Govt. of Nagaland
ii. Assessment through live test and daily class assessment
iii. Submission of business profile-Paper and Video Presentation
Where to Apply
Visit your nearest District Industries Centre.
(9:00 am to 05:00 pm, Monday to Saturday)
Or Contact us : +917428799669
Email: industrynaga.media@gmail.com
Website: industry.nagaland.gov.in
Timeline for application
 01.10.2021 – 12.10.2021

Follow us on :
Twitter: @Industries_NL
Facebook: Icd Nagaland
Instagram: @industries_nl